The Dentist Mailing List | List of Qualified UK Dentists | All GDPR-compliant
A Dentist email database contains the contact details of 1,360 UK dentists and management contacts, over 800 orthodontists and hundreds of dental hygienists. These are the key staff within their dental practices, and hold the purse strings of the business. These lists can help businesses connect with dental professionals and expand their outreach efforts within the dental community. In most cases, they are partners within the practice and are therefore responsible for the general running of the company. They are active in making decisions regarding IT systems, pharmaceuticals, PPE and other medical equipment. International data is also available.
---
Who should use a Dentist Mailing List
Dentist mailing lists are commonly used by businesses and organisations in the dental industry, such as dental supply companies, dental marketing agencies, and dental continuing education providers, to reach out to their target audience for marketing, sales, research, and communication purposes. In addition this file is also the ideal dental database for any company who wants to sell personal protective equipment, dental equipment or dentist specific IT systems. It is also great for dental schools and dental trainers, publishers of dentistry related information and event organisers of dental conferences.
The list of dentist email addresses may be helpful if you are:
a dental equipment supplier
event organiser
dental school
pharmaceuticals supplier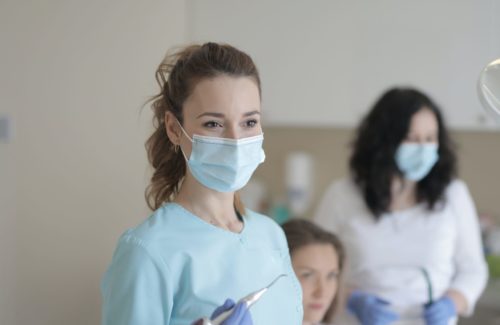 GDPR Compliant. UKMM are committed to using only mailing, email and telephone data that complies with GDPR. We also offer guidance on how you can maintain your compliance.
UK Dentists Email List
This list of UK-based dentists consists of 678 organisations and 2,497 individual contacts, including dentists and management contacts.
It is available for immediate purchase at £775.
---
Dental Hygienist Email List
Dental hygienists are trained to provide preventative dental care as well as treat gum diseases. They take care of gums and teeth by removing tartar and plaque. They are a target audience for professionals looking to advertise oral care products, professional dental equipment as well as protective clothing and disposable products.
Dentist Email List USA
Further to the list of qualified dentists in the UK, we have access to 18,436 dentists who practice dentistry in the USA. This file is one of the most comprehensive in the US. In the same way that the UK data file holds all key contact information, the US file also contains the direct email address of these dental professionals.
Specialist Orthodontist List
Further to the list of qualified dentists UK, we can split out the specialist orthodontist list. These contacts are highly skilled and are key to the services that their dental practice offers. They are key personnel at these practices with a huge influence over buying decisions. the file contains 800+ orthodontists in the UK.
Need advice on your list of dentists or picking your target audience? Get in touch
1,360 Dentist Mailing List Contacts. Each record includes:
Full Name of the Dentist Contact
A Personal Business Email Address (not generic)
Exact Job Title
Company Name and Website Address
Full Mailing Address with Postcode
Organisation-level Phone & Fax Numbers
Dentist Email List Quality Promise
Your list is built to your specifications; better open rate and lower pricing.
Hundreds of selection criteria: job titles, seniority, industries and sectors.
95% deliverability guarantee.
Use data for 12 months after purchase.
GDPR-compliant data.
A personal account manager who will choose the best data selection for your project.
Email addresses are regularly updated for accuracy and relevance.
Business Lists
If you are looking to market your products and services to senior business contacts then we can help. Our business lists cover all job functions, sectors, company sizes and regions both in the UK and internationally.
Consumer Lists
With access to over 5000 consumer lists, UK Marketing is a single source of data for all consumer targeting. The consumer lists can be selected by age, gender, income, interest area and many more criteria.
Samples and Testing
We're happy to offer samples on any business list we use, both UK lists and international lists. Samples show the field layout giving you confidence of what you are getting. We can also arrange for small test orders on both business lists and consumer lists.
Customer Feedback
Impressed with the service. Data was sourced very quickly. I was also offered multiple options for various sets of data, each coming with a unique overview, quantities and prices, so I was able to choose the best option for my company.
Great service. I've got accurate, high quality data tailored to my exact needs.
Will be using UK Marketing Management again. Good value and clean data.