Email List of C-Level Executives | GDPR Compliant Verified Data
Get access to the contact details of over 51,600 C-Level executives across the UK. This marketing list is regularly updated and includes email addresses, phone numbers and more. Each contact includes information about the company too, allowing you to reach just the right people for your offering.
---
51,694 C-Level Executive Contacts. Each Record Includes:
Full Name of the C-level executive
A Personal Business Email Address (not generic)
Exact Job Title
Company Name and Website Address
Full Mailing Address with Postcode
Organisation-level Phone & Fax Numbers
Company Industry
Company Revenue & Employee Size Indicator
C-Level Executives Mailing List Quality Promise
Free data samples to give you insight into the quality and field layout
Hundreds of selection criteria: job titles, seniority, industries and sectors, revenue, company size, sic codes or even by keyword
95% deliverability guarantee
GDPR-compliant data
Email addresses are regularly updated for accuracy and relevance
Use data for 12 months after purchase
A personal account manager who will choose the best data selection for your project
---
What does the list of C-level Executives include?
Our C-Level executive database consists of 51,694 individual contacts. C-level jobs are the top executive or highest level corporate positions in a company, the 'C' stands for Chief. As well as a graduate degree, most C-Level execs have many years of experience. With this list you get access to the top-tier execs of all major businesses in the UK. That includes the following job titles:
CMO – Chief Marketing Officer
CTO – Chief Technology Officer
CDO – Chief Digital Officer
CHRO – Chief Human Resources Officer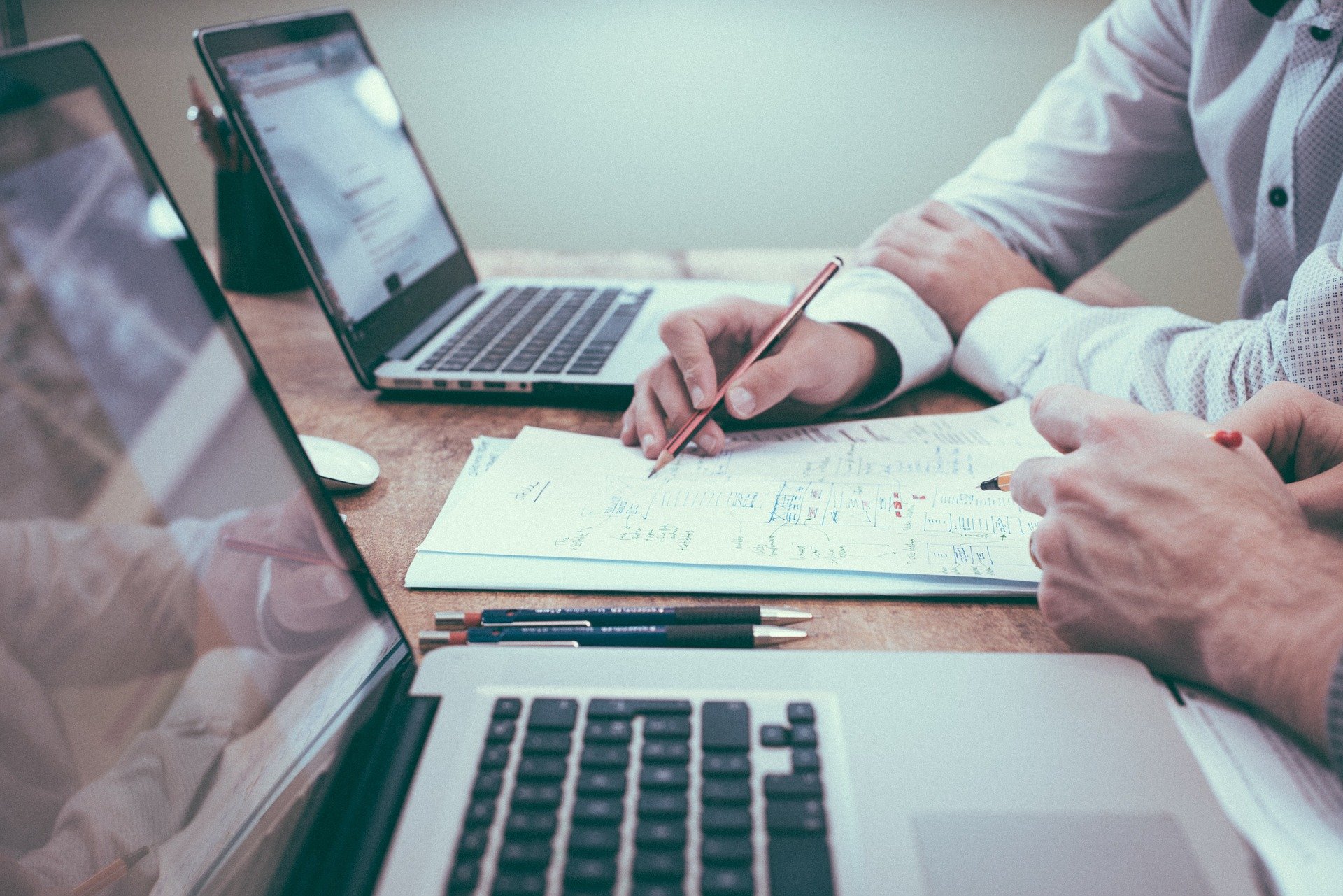 The contact list may include as many c-suite executive titles, as your project requires.
List of C-Levels Executives by Industry
The list below shows a breakdown of this database by company industry. Depending on your project, you will be willing to narrow down your data selection accordingly to contact only the right people in charge, as that's how you get higher conversion rates.
---
Agriculture: 217 C-Level Execs
Business Services: 7,599 C-Level Execs
Chambers of Commerce: 68 C-Level Execs
Cities, Towns & Municipalities: 601 C-Level Execs
Construction: 1,172 C-Level Execs
Consumer Services: 1,125 C-Level Execs
Cultural: 383 C-Level Execs
Education: 2,527 C-Level Execs
Energy, Utilities & Waste Treatment: 1,418 C-Level Execs
Finance: 4,652 C-Level Execs
Government: 1,373 C-Level Execs
Healthcare: 2,154 C-Level Execs
Hospitality: 1,842 C-Level Execs
Insurance: 1,623 C-Level Execs
Law Firms & Legal Services: 577 C-Level Execs
Manufacturing: 4,521 C-Level Execs
Media & Internet: 2,894 C-Level Execs
Metals & Mining: 381 C-Level Execs
Organizations: 4,879 C-Level Execs
Real Estate: 1,192 C-Level Execs
Retail: 1,738 C-Level Execs
Software: 5,237 C-Level Execs
Telecommunications: 836 C-Level Execs
Transportation: 1,187 C-Level Execs
UKMM are committed to using only mailing, email and telephone data that complies with GDPR. We offer guidance on how you can maintain your compliance.
How Many C-Level Executives Can I Contact?
Whilst our data list consists of thousands of entries, it is likely that you are looking to approach only specific job titles or people engaged in specific professions only. The graph below shows the number of contacts available for the top 15 most popular C-Level job titles. Our database consists of over 80 C-Level positions, from CEOs to Chief Culture Officers and Chief Visionary Officers.  The information in this database is constantly updated to ensure that it remains current and relevant, and it is carefully vetted to ensure the highest quality and accuracy. With detailed information on each contact, including their name, title, company, email address, and telephone number, you'll be able to easily reach out to the executives you need to connect with.
Whether you're looking to expand your network, build new partnerships, or gain valuable insights from the industry's top leaders, our C-Level executive database is the perfect tool for you. So don't wait any longer – get started today and take your business to the next level!
---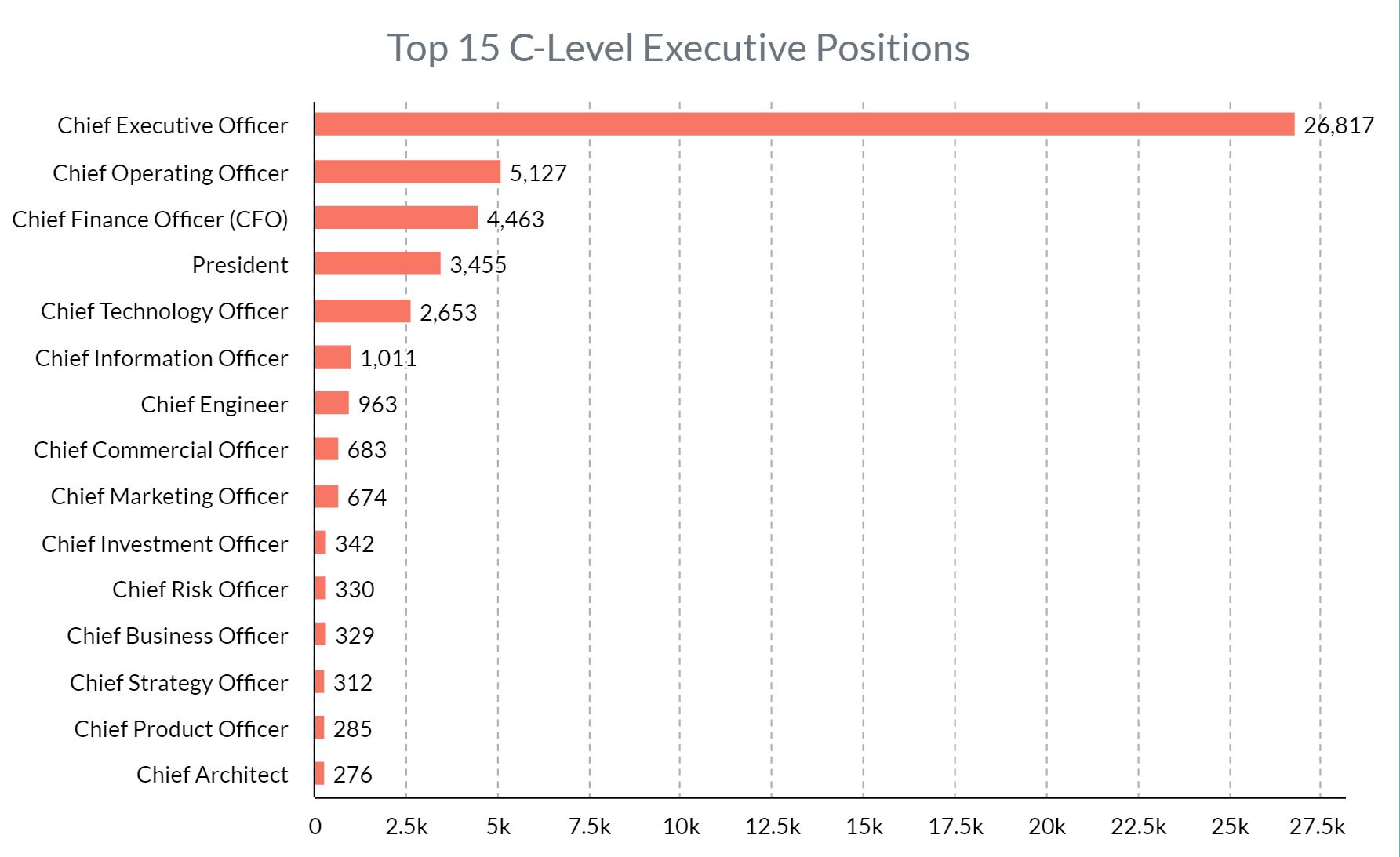 ---
---
List of C-Level Executives Explained
---
At the top of the corporate hierarchy, sits the CEO. This person oversees all business operations and drives the strategy of the business. They're responsible for the overall success of the company and all other C-Level executives report into the CEO. The CEO may also be the founder/co-founder of the business.
COO – Chief Operating Officer
Usually second in command to the CEO and responsible for the appropriate execution of the business strategy, the COO ensures the company is a well-oiled machine.
The CFO oversees the financial status and reporting for the entire company. They manage all financial aspects of the business including risk analysis and long term budgeting.
CMO – Chief Marketing Officer
Responsible for the creation and implementation of all marketing strategies within the business. The CMO will guide the company on all types of marketing including advertising, digital marketing including email strategy, events and product positioning.
CIO – Chief Investment Officer
The responsibilities of the CIO include managing and monitoring investment activity such as pension funds, working with external analysts, and maintaining good investor relations.
CTO – Chief Technology Officer
The CTO develops policies and procedures using technology to enhance products and services that focus on the businesses external customers.
CDO – Chief Digital Officer
The Chief Digital Officer will drive a company to diversify from their 'analogue' processes to digital ones. They will also oversee operations in the digital sphere such as websites, mobile apps etc.
CHRO – Chief Human Resources Officer
Responsible for all things people related, the CHRO will oversee the companies direction on hiring, promoting, training and evaluating their people.
CIO – Chief Information Officer
Responsible for managing and successfully implementing the information and computer technology systems of a company.
---
How to reach out to C-Level Executives?
How to talk to C-Level Executives?
Do your homework before you make a connection.
Learn about the prospects industry and company.
Learn the prospects' challenges and ensure you have the solution to at least some of them.
Have notes to hand which includes your talking points, these should all be goal-oriented.
Be an active listener and let your prospect talk.
How to email C-Level Executives?
Become familiar with the prospects industry and company before reaching out.
Perfect your hook – you have a few seconds to get your prospect to continue reading your email, start with something snappy and relevant to them.
Be concise and focused.
Always include your contact details and a reason for them to get in touch with you.
Politely follow up.
Testimonials
Having dealt with many agencies and list brokers I know how few and far between GOOD ones are. It has been a refreshing change dealing with John McCabe at UK Marketing Management Ltd. When given a brief from me he squirrels away and comes back with in depth information that will help me make the right decisions. We need a few more John McCabe's in the World!
I have used UK Marketing Management as my primary source for list rental and email marketing for around 10 years. The nature of the campaigns we work on usually involves quite obscure and precise targets and rarely if ever have UK Marketing Management failed to come up with good quality data.
UK Marketing Management gave us detailed advice on the data source that most suited our business needs and provided the data swiftly and in a user friendly format. We have now used the company's services twice and are impressed by it's efficient and targeted approach.
---
Our Popular Email Lists to Buy
---
Buy Email Lists By Company Industry
Buy Email Lists By Company Specifics
---